Curriculum Intent Statement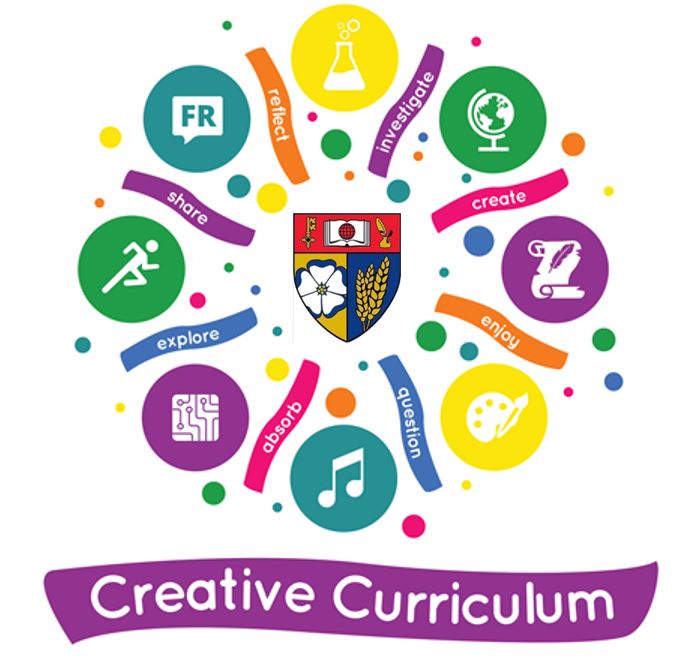 At Winterbourne, we believe in a broad and balanced curriculum for all which helps create rich cultural capital. The curriculum is designed to enable all students to access a wide variety of pathways, whilst maintaining a strong academic core, and to enable all students to progress and achieve to the highest possible level, whatever their starting point. We believe in enabling students to become life-long learners, developing the skills, inspiration and knowledge for future success.
Students follow national curriculum subjects from Years 7-9, ensuring breath and access is maintained for every child. The vision for students' learning at KS3 is to create enjoyment and deep knowledge in each subject, developing skills such as creativity, resilience, independence and problem solving, whilst also enhancing literacy for all across the curriculum. Learning is sequenced with a clear focus on previous study and future progression, as well as with a conscious awareness of links across the curriculum, especially those which build on wider knowledge and understanding of SMSC. Collaboration with the trust ensures that curriculum coverage meets agreed Key Learning Intentions for each subject, meaning that high standards for all are explicit, expected and embedded in each through an entitlement curriculum.
At KS3 there is a focus on EBacc subjects, with these taking two thirds of curriculum time to ensure that students have the greatest possible advantage in excelling in these areas and to develop clear academic rigour. A full experience of arts and practical subjects is regarded as crucial for developing students' skills and knowledge, with these taking nearly 30% of KS3 curriculum time. There is also additional provision for English and maths in Year 7 and 8, using extra groups and additional one to one or very small group time with subject specialist teachers in order for students who are behind in these core subjects to catch-up. Literacy and reading is also prioritised, with 3 sessions of 15 minutes in tutor time dedicated to reading in years 7 to 10.
Year 9 is a transition year to GCSE, where students choose their options ready to start in Year 10. English, maths and science begin to deliver GCSE topics and shift students to an increasingly advanced understanding. Students also begin a GCSE in either Citizenship or Religious Education, to be completed at the end of Year 10. This reflects our commitment to developing students' wider understanding of issues, culture and the world and also allows each individual to experience the rigours of GCSE exams and assessment, including the need for independent revision, without the full demands of exams in all subject. Students are also able to specialise in design technology subjects.
At Key Stage four, we aim to ensure that every student follows an appropriate pathway which can secure their future success. All students study English Language and English Literature and either follow three separate sciences or combined science. All students also must choose at least one EBACC subject: history, geography, computer science or a modern foreign language, ensuring that all have a broad and rich academic base of qualifications. Similarly, all are given the opportunity to follow the English Baccalaureate and to do two languages if they wish. We prioritise having a range of routes, including a wide a choice of alternative GCSE and vocational qualifications to suit students' interests, learning styles and ambitions. A very small number of students, such as those with relevant EHCPs, may follow a slightly reduced programme to enable appropriate additional support. We believe in prioritising English and maths to help all students to succeed in these "passport" qualifications, giving a third of curriculum time, creating additional subject groups and also adding a flexible learning lesson in Year 11 where students can be supported in much smaller classes as required.
At Post 16, we offer very rich provision at Level 3 with access to well over 30 different qualifications; we are proud that the partnership across Olympus Academy Trust schools means that a full offer of high quality A Level and vocational courses is possible across all curriculum areas. We are committed to enabling all students to access all university options, including Oxbridge and Russell group, as well as ensuring students are aware of all Post 18 pathways including level 4 apprenticeships available to them locally and nationally. We also provide a supportive core programme which develops the necessary skills for all students for life after school.
In addition, personal development of students is intrinsic to curriculum planning across the school, being embedded in subjects and in KS3 themes as well as in regular drop down days and in PSHE bespoke lessons whish are delivered by tutors for an hour a week in tutor time.
The curriculum / timetable
The curriculum timetable consists of a wide range of subjects, each of which belongs to one of nine faculties (please click on the subject for further information):
English Language and Literature
Humanities:
Religious Studies
The Arts:
Drama
Dance
Photography
Social Sciences:
Criminology
Economics
Law
Psychology
PSHE (Personal, Social, Health & Economic)

KS3 - Years 7, 8 and 9
Welcome to the
KS3 Reading Passport

Please see below for subject learning journeys from Year 7 through to Year 11:
English Learning Journey Modern Foreign Languages Learning Journey
Maths Learning Journey Religious Studies Learning Journey
Social Sciences Learning Journey
Click here for information about supporting your child with Homework and establishing good study habits
GCSE Options take place in Term 3 of Year 9 (please visit the Options page for more information)
Year 7 Catch-Up Funding Evaluation: 2019-2020
KS4 - Years 10 and 11
GCSE Options take place in Term 3 of Year 9 (please visit the Options page for more information).
In Key Stage 4 students follow a Statutory Physical Education, PSHE and Core (Mathematics, English Language / Literature and Science) curriculum. This is then supplemented by Option Pools with students selecting an additional number of subjects . Students will have the opportunity to follow a rich, broad academic curriculum and also choose from a wide range of arts, vocational, engineering and practical subjects.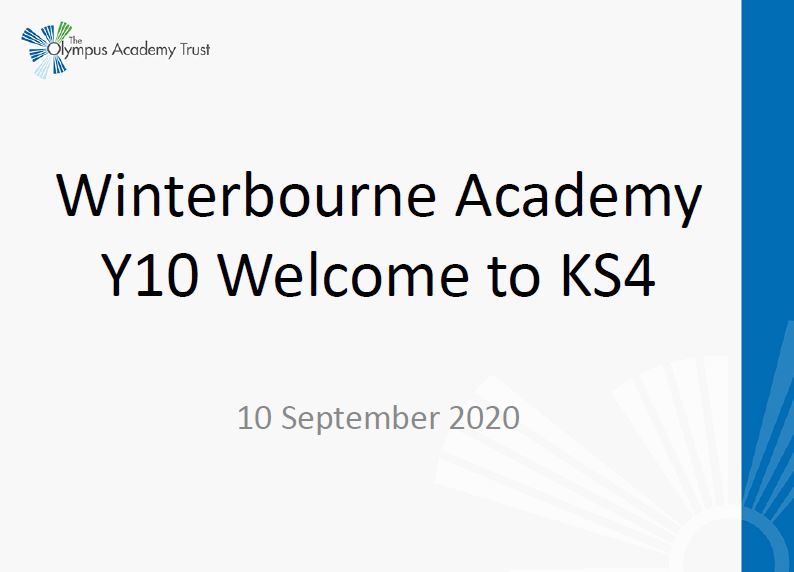 CLICK HERE FOR THE YEAR 10 'INTRODUCTION TO KS4' PRESENTATION (10/09/20)
Year 10 Welcome Event - Invitation letter
Y11 Welcome from Mr Peake, Assistant Headteacher KS4 - Oct 2020
Y11 Welcome from Mrs Webster, Head of Year 11 - Oct 2020
KS5 - Years 12 and 13
Post 16 provision at Winterbourne includes a range of academic and diverse courses to suit every student, with a dedicated ICT provision and Sixth Form Library.
Currently over 30 Level 3 subjects are offered, the majority of which are A Level courses, with some BTECs and Technical courses also available for a more practical approach to learning. All students in Year 12 also study the Core Extended Project Qualification (EPQ).
Most students now study 3 A Levels + an EPQ throughout Y12 and Y13, but where appropriate a few choose to study 4 A Level Subjects. All students also have a dedicated 1 hour Tutor Period per fortnight, with this time used for UCAS Support, PSHE delivery etc. The Academy is currently developing its 'wider' curriculum opportunities, including Work Experience, Mentoring Younger Students Programme etc.
In 2017 the Academy developed a partnership, working between ourselves, the Olympus Academy Trust and the local Concorde Post-16 Partnership. This involves some students joining Concorde Partnership groups for some of their lessons.
The Concorde Partnership experience has been carefully designed to provide all students with a well-balanced education, both inside and outside the classroom, studio or laboratory. By working together we can give students a wide range of courses that will not only cater for personal preferences but also provide choices that will serve students well in the future. We are excited about the new developments for the Academy, ensuring high quality provision for all students and drawing on the many strengths the Concorde Partnership offers.
THE WEBSITE HAS A DEDICATED AREA FOR SIXTH FORM - PLEASE VISIT THESE PAGES FOR MORE INFORMATION: https://www.winterbourneacademy.org.uk/