Winterbourne Academy offers a broad and balanced curriculum across Key Stage 3, Key Stage 4 & Post-16
The curriculum/timetable consists of a wide range of subjects, each of which belongs to one of nine faculties (please click on the subject for further information):
English Language and Literature
Humanities:
Religious Studies
The Arts:
Drama
Dance
Photography
Social Sciences:
Criminology
Economics
Law
Psychology
PSHE (Personal, Social, Health & Economic)

KS3 - Years 7, 8 and 9
Welcome to the
KS3 Reading Passport

Welcome to Year 7 Information Event
- 15/09/20
Click here for information about supporting your child with Homework and establishing good study habits
GCSE Options take place in Term 3 of Year 9 (please visit the Options page for more information)
Year 7 Catch-Up Funding Evaluation: 2019-2020
KS4 - Years 10 and 11
GCSE Options take place in Term 3 of Year 9 (please visit the Options page for more information).
In Key Stage 4 students follow a Statutory Physical Education, PSHE and Core (Mathematics, English Language / Literature and Science) curriculum. This is then supplemented by Option Pools with students selecting an additional number of subjects . Students will have the opportunity to follow a rich, broad academic curriculum and also choose from a wide range of arts, vocational, engineering and practical subjects.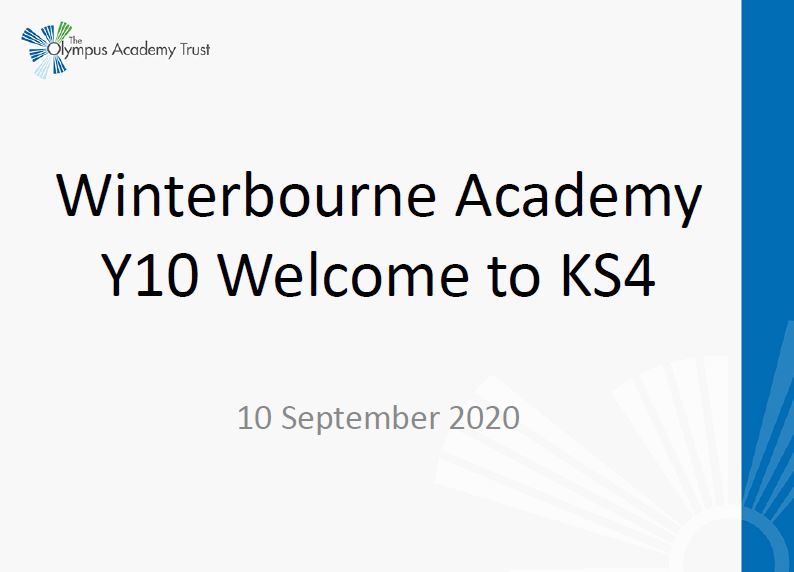 CLICK HERE FOR THE YEAR 10 'INTRODUCTION TO KS4' PRESENTATION (10/09/20)
Year 10 Welcome Event - Invitation letter
Y11 Welcome from Mr Peake, Assistant Headteacher KS4 - Oct 2020
Y11 Welcome from Mrs Webster, Head of Year 11 - Oct 2020
KS5 - Years 12 and 13
Post 16 provision at Winterbourne includes a range of academic and diverse courses to suit every student, with a dedicated ICT provision and Sixth Form Library.
Currently over 30 Level 3 subjects are offered, the majority of which are A Level courses, with some BTECs and Technical courses also available for a more practical approach to learning. All students in Year 12 also study the Core Extended Project Qualification (EPQ).
Most students now study 3 A Levels + an EPQ throughout Y12 and Y13, but where appropriate a few choose to study 4 A Level Subjects. All students also have a dedicated 1 hour Tutor Period per fortnight, with this time used for UCAS Support, PSHE delivery etc. The Academy is currently developing its 'wider' curriculum opportunities, including Work Experience, Mentoring Younger Students Programme etc.
In 2017 the Academy developed a partnership, working between ourselves, the Olympus Academy Trust and the local Concorde Post-16 Partnership. This involves some students joining Concorde Partnership groups for some of their lessons.
The Concorde Partnership experience has been carefully designed to provide all students with a well-balanced education, both inside and outside the classroom, studio or laboratory. By working together we can give students a wide range of courses that will not only cater for personal preferences but also provide choices that will serve students well in the future. We are excited about the new developments for the Academy, ensuring high quality provision for all students and drawing on the many strengths the Concorde Partnership offers.
THE WEBSITE HAS A DEDICATED AREA FOR SIXTH FORM - PLEASE VISIT THESE PAGES FOR MORE INFORMATION: https://www.winterbourneacademy.org.uk/